Sheet Metal Fabrication Serving the Big Horn Basin
Sheet Metal Fabrication in Cody, WY by Big Horn Heating & Cooling
Heating & Cooling Experts Serving Park, Big Horn, Hot Springs & Washakie Counties In the Big Horn Basin
At Big Horn Heating & Cooling, we pride ourselves on providing our clients with everything that they need to keep their homes and commercial properties comfortable throughout the year. This goes beyond simply offering great heating and air conditioning systems, as well as great indoor air quality products. It even goes beyond providing our valued customers with impeccable customer and technical service. It entails offering the types of services that are sometimes hard to come across, and ensuring that those services are every bit as exceptional as our more general HVAC and indoor air quality offerings. One such service is sheet metal fabrication, and it is one in which we excel.
There are many different products that we can fabricate in our sheet metal fabrication shop. If you are a homeowner looking for custom ductwork, or a restauranteur in need of custom hoods for your stoves, we are the company to call. Let us handle all of your sheet metal fabrication service needs.
Big Horn Heating & Cooling provides sheet metal fabrication services near Cody, WY and the surrounding areas.
Why Work with Our Sheet Metal Fabrication Technicians?
When you buy a new home, or invest in a new commercial property, you want to make that property your own. You probably wouldn't buy a classic car and try to fill it with modern, mass–produced parts, and you may not want to treat your home or business in that fashion, either. Whether you are looking for a very specific style for your sheet metal fixtures, or you are interested in customized products that will suit your intended usage like a glove, there is no better way to get precisely what you are after than by having your sheet metal products custom–prepared by qualified technicians.
We won't contract your sheet metal fabrication jobs out, and we won't simply design the products you want and have them fabricated by some other shop. We have everything that we need in–house, including some of the finest sheet metal fabrication equipment available, as well as equally exceptional technicians to operate it. When you hire our sheet metal fabrication specialists to do the job, you are guaranteed to be satisfied with the finished product.
---
Contact us today to get started.
---
Why Choose Big Horn Heating & Cooling?
What Makes Us Different
Serving the Big Horn Basin Since 2007
Backed by a Warranty

Get peace of mind with our warranty-backed services.

Affordable Financing Options

We make HVAC services affordable with financing.

Contact Us for a Free Estimate

Talk to our HVAC team today during a free estimate.

Around-the-Clock Help

Emergencies don't wait for office hours, so neither should you.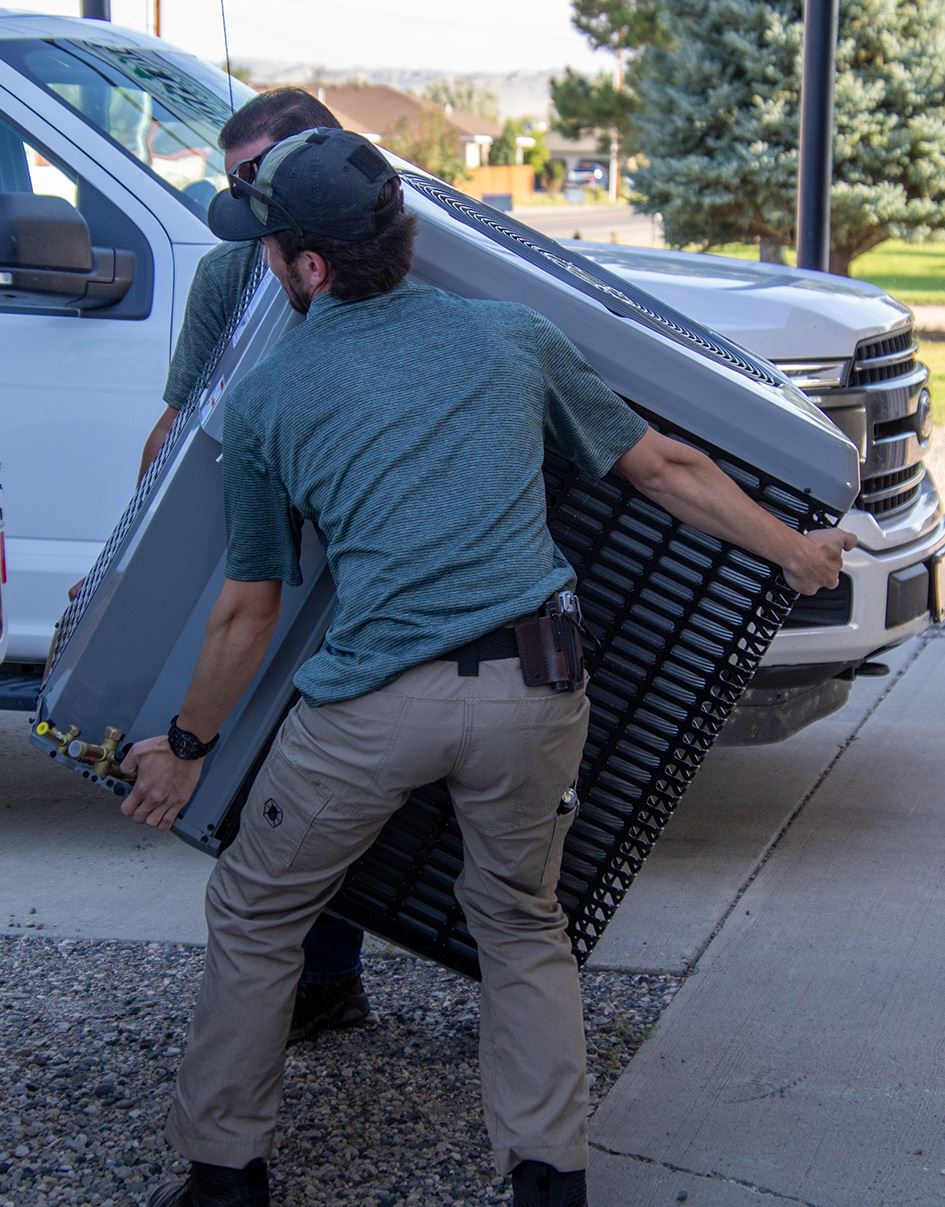 Serving The Big Horn Basin
Based in Cody & Worland, we provide quality service throughout the Big Horn Basin.
Count On Us for Outstanding Custom Ductwork Fabrication
Even if you are content with your range hoods, stainless steel backsplashes, and other sheet metal products, you may find yourself considering custom sheet metal fabrication services out of necessity. Among the most common requests that we receive in our shop is that for custom ductwork fabrication. It is a request that we are always happy to grant, as we just so happen to provide some of the best custom ductwork products that you're likely to encounter anywhere.
Whether you have an old property that simply was not designed to accommodate bulky modern ductwork, or you just have a unique floorplan in need of equally unique air ducts, you can bet on our custom ductwork specialists getting the job done right. With our custom ductwork in place, painstakingly designed and expertly fabricated, you will be able to heat and cool your properties with the efficiency and reliability that you demand.
Our Services
How We Can Help You
When you trust Big Horn Heating & Cooling, you can know the job will be done right the first time.
Big Horn Heating & Cooling's Blog
Recent Posts
Want all the latest news or updates? Browse through our blog to read our most recent posts and featured articles.