About Serving the Big Horn Basin
About Big Horn Heating & Cooling
Serving Customers Throughout the Big Horn Basin
At Big Horn Heating & Cooling, we believe that all of our neighbors deserve to live and work in consistent comfort. We are happy to play a part in helping our neighbors to achieve this goal, which is why we offer comprehensive residential and commercial heating, air conditioning and indoor air quality services throughout the area. Whatever you may need to make your home or commercial property a more comfortable place to be, we are ready and willing to help.
We know that there is no shortage of companies to choose from when it comes to your home and commercial comfort services. That is why we truly go above and beyond when it comes to both our technical and customer service quality. When you work with us, you will see what true professionalism and servicer excellence look like. Contact us today to get started, or with any questions that you may have regarding the products and services that we provide.
---
Big Horn Heating & Cooling provides residential and commercial heating, air conditioning and indoor air quality services near Cody, WY, Worland, WY and the surrounding areas.
---
The Services We Offer Are Exceptional
We believe that offering an extensive list of services to our clients is the best way in which to ensure that they are able to procure the services that they need in a prompt and convenient manner. However, we also know that a great selection of services is worth very little if each and every one of those services is not of the very highest quality. That is not a problem that you will encounter when you work with us, though. We don't have any specific demographic in mind, nor do we feel the need to pad our offerings with meaningless guarantees or catchy slogans. Instead, we simply provide all paying customers throughout the area with the same level of exceptional services, from heating installations to routine air conditioning maintenance and custom sheet metal fabrication.
Areas of Expertise
In truth, our expertise encompasses all of the services that we offer. We wouldn't offer them unless we knew that we could complete them with a quality befitting our reputation, after all. However, there are some unique services that we offer which help to differentiate us from the pack. We fabricate our own sheet metal in–house, for instance, and we also offer in–floor heating services, as well as combustion analysis and CO checks. Your safety is as important to us as your 100% satisfaction, and these service offerings make that clear to our valued customers. When you come in from hunting, fishing, camping, hiking or any other type of outdoor activities, you should be greeted by a safe and comfortable environment. We'll ensure that this is the case.
---
Call today, and work with qualified professionals that you can count on with well–deserved confidence.
---
Why Choose Big Horn Heating & Cooling?
What Makes Us Different
Serving the Big Horn Basin Since 2007
Backed by a Warranty

Get peace of mind with our warranty-backed services.

Affordable Financing Options

We make HVAC services affordable with financing.

Contact Us for a Free Estimate

Talk to our HVAC team today during a free estimate.

Around-the-Clock Help

Emergencies don't wait for office hours, so neither should you.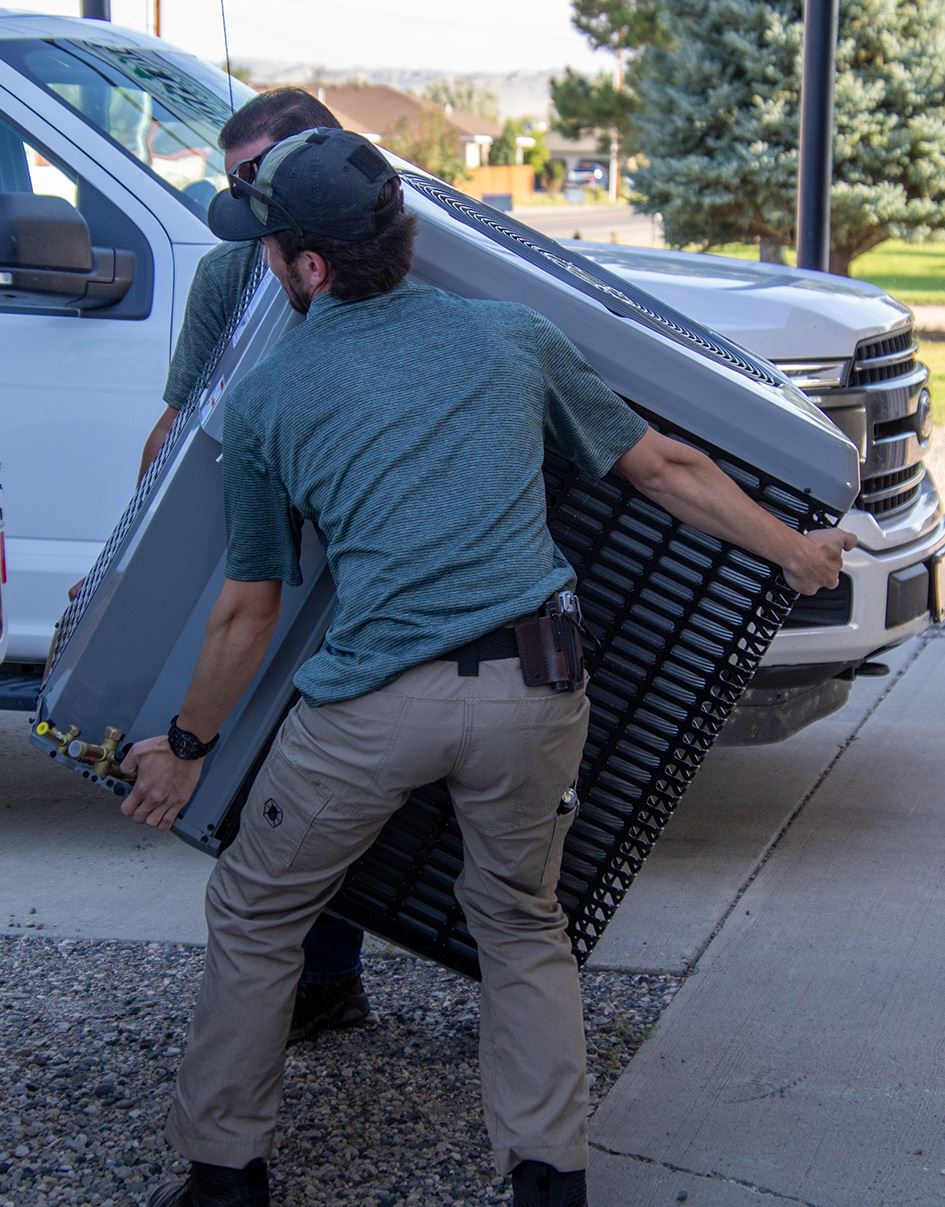 Serving The Big Horn Basin
Based in Cody & Worland, we provide quality service throughout the Big Horn Basin.
You Can Trust Us With Your Comfort
Big Horn Heating & Cooling employs some of the finest HVAC, IAQ and sheet metal fabrication technicians in the industry. We are fully licensed and insured, and we have many various product–specific certifications as well. When we come into your home, we are outfitted in easily recognizable green and white uniforms, so you know that you are dealing with a trustworthy individual. We even wear booties to protect the integrity of your property, and vow to do whatever it takes to make sure that all of our customers, yourself included, are happy with the services that we provide. We respond to our service calls within 24 hours, and we know that our job is not done until it is done right.
Our Services
How We Can Help You
When you trust Big Horn Heating & Cooling, you can know the job will be done right the first time.
Big Horn Heating & Cooling's Blog
Recent Posts
Want all the latest news or updates? Browse through our blog to read our most recent posts and featured articles.